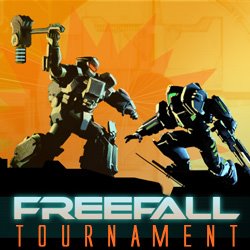 Welcome to the Freefall Tournament Wiki!
On this Wiki, we hope to explain as much about the game as possible. To read what the Admins are saying, thinking, and doing about the Wiki, please go to Wiki News page in the Community bar. From time to time, this page will also have Polls that you can vote in, which will help to decide the future of the Wiki.
Feefall Tournament is a free-to-play, third person shooter game developed by Free Range Games.
The game is an intense, high velocity, team-based, battlesuit combat game. Skill with jetpacks, guns, armor, hammers, swords, and bombs determine the winner of this PvP tournament. Choose to fight as one of a growing cast of classes battling in 10-20 minute matches. Rank up and win Cash to purchase more weapons, armor, and boosts in order to dominate the arena.
Stages of Developement
Feefall Tournament is the prequel offshoot of Freefall Arcade (a top-down survival shooter game which went through earlier beta testing on Facebook). Freefall Tournament was created in response to demand for extreme player versus player shoot-outs, and has earned high ratings and a dedicated following since its launch on Kongregate. New maps, battlesuit classes, and weapons are scheduled to be released periodically so the game will grow with (and in response) to its community.
Play
Play Freefall Tournament at Y8 Here, on Amazon Here, or on its own website Here.
Find us on Steam!
Developer
Free Range Games is a 20-man team that has worked together for the better part of a decade. Together, they have launched several big video games, including Spider-Man, Tony Hawk, Lord of the Rings, and Shrek.
Latest Activity
Community content is available under
CC-BY-SA
unless otherwise noted.